Hey, Look! These are Books.
Often when people read books,
It either holds their attention, or it doesn't.
If you read the book for school,
you're expected to remember its key themes and details.
If you read it for something other than school...
well, you probably don't read it to begin with.
You read a newspaper or magazine or web article,
and you learn all sorts of interesting information.
But why is it that movies seem so often dismissed
as merely entertainment?
Why do we think it okay to watch them
while doing something else?
If well-made, don't they deserve our undivided attention,
I'm just saying, Movies are a legitimate artistic enterprise
and as good as (if not sometimes better than) books.
Okay, I'm stepping down from my soap-box.
I just feel guilty about not paying enough attention to the movie Rushmore the other night.
I remember there's a boy, and he's at a prep school, involved in a million-and-one extracurriculars.
And then he sorta falls in love with one of his teachers, and so revives the school's Latin curriculum and makes plans to build a huge aquarium.
But then he gets his heart broken (and his bike). And he gets sent to public school (!).
And he becomes a barber, like his father.
But everything turns out alright in the end. i think.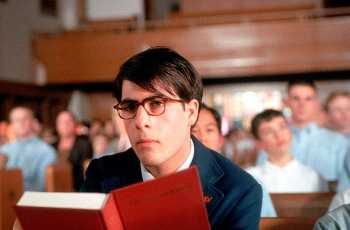 Someone named Wes Anderson wrote and directed the film.
But that's all I really remember, because mostly
I was only paying attention enough to lose terribly at Monopoly.
Does anyone remember anything else about the movie?
What did you like about it?
Did it make you think, or just make you laugh?
Let me know: Leave a comment.